Overview
The Inn Rework v0.08.02 by Lykanz, The Inn is a game about tells the story of down on his luck kind of guy. He's been living by himself in the big city ever since his father kicked him out of his house at the age of 18. He really lives a miserable life… But it's all about to take a 180º turn when he meets a certain person one night (yeah, cliché, I know, sue me).
---
Updated: 2023-02-01
Release Date: 2023-02-01
Developer: Lykanz – Patreon – Discord – Picarto
Censored: No
Version: v0.08.02
OS: Windows, Mac, Android, Linux
Language: English, Portuguese
Genre:
Slife of Life, Romance, Comedy, Silly, Memes, MILF, Redheads, Bigus Dickus, Robots, Redneck, Muscle Girl, BJ, HJ, TJ, Vaginal
Installation
1- Extract to desired location.
2- Click on "THE-INN.exe" to start playing.
Android Gesture
Swipe Up – Save Slots
Swipe Down – Hide UI
Swipe Right – Skip
Swipe Left – Rollback
Swipe Up then Down – Toggle/Disable Auto Forward Mode
Changelog
v0.08.02
1 new event
Added a checklist feature to the Navigation System (Normal Mode)
Remade the animation for the Main Menu buttons
Reworked the Quicksave Menu

v0.07.10
-Polishing and Tweaking Update for 0.07
-Added Replays for all the important scenes for Joana's day.
-Fixed some file structure issues with the Clothing Selection options in the Replay Gallery.
-Added a Commissions Gallery.
-Rework (yet again) the code for the Pin-ups Gallery.
-Complete rework of the music Gallery.
-Remade around 80 images for the Spa portion of Joana's update.
-Items in all Extras Galleries are now displayed in groups.
-Added thumbnails for all events in Joana's update.
-Reworked the Notification System.
-Fixed an issue where the game would crash during group SMS message before the movie night event if the player didn't see Val's message before leaving the spa.
-Fixed Val being in the bathroom when the player and Joana come back home from the stargazing.
-Reworked the Fetish Selection Screen.
-Added more useful info on the Save screen.
-New fetish added to the fetish list. (Futa)
-Remade 3 Day 08 animations that were, to be kind, pretty subpar.
-Implemented VN Mode throughout the entire game. (New Game Required)
-Revisited and improved dialogue flow.
-Replaced around 90% of the game's music and sound effects.
v0.07.09
Ninth and Final Beta for 0.07
Conclusion of the events for Joana's update
One new event
New options at the Replay screen
You can now unlock all replay scenes in the Gallery
Can do one more Movie Night at Joana's house
Added a second location for saves in Android builds
Added a new option for Val's path during movie night
Added conditional dialogue to Joana's path during movie night
Added an "In Progress" visual hint to the girl selection screen that shows up when a girl day is still being developed
0.07.05
Continuation of the events for Joana's update
2 new events.
0.07.04
Continuation of the events for Joana's update
2 new events.
v0.07.03
Continuation of the events for Joana's update
3 new events.
v0.07.02
Continuation of the events for Joana's update
3 new events featuring Val, Linda and Luana.
v0.07.01
Start of Joana's focused update
2 new introductory events.
v0.06.10
Polishing and tweaking update.
Profile Backgrounds, Pictures and Clothes for Cindy and Jessica.
Wardrobe code, icons and previews for Cindy and Jessica
New clothes added for Val (3 Clothing, 1 Swimwear)
New clothes added for Main Character (1 Clothing, 1 Swimwear (dependant on player's choices))
Reworked the way the Wardrobe System works so clothing previews are displayed even if the character doesn't have the required Affection, Lust or Karma points to wear them.
Revised Wardrobe System Tutorial to reflect the new changes.
Added Edgescrolling to the massage minigame (better late than never, right?).
Added missing Event Log Thumbnails for 0.06 events.
Added conditional navigation flavor text for the entire update.
Added replays for the entire update in the Replay Gallery.
Added Sound Effects and Background Music for the entire update.
Added a new field to the Preferences Screen that let the player change the speed in which the dialogue animation plays.
v0.06.4
N/A
v0.05
What's up my dudes and dudettes?
So, here we are huh? 
The day has finally arrived
!
It's with great joy that I bring you the 
official release
 of the 
v0.05 update
 for 
The Inn
!
This update is quite special for two 
reasons
:
1 – It's the first update that brings new content to the game since November 2018 and the dreaded Halloween Special. Sorry for the long drought.
2 – To be honest, the technological jump that this update has from v0.04, or even from Beta 4, is astounding.
This update also brings major changes to game mechanics, image quality and QoL additions. I won't talk about them here because that would only make this post bigger, but you can check the development update posts I made!
Also, while this update is fully compatible with saves from Beta 4 and you'll be able to enjoy it to it's fullest from them, I'd highly recomend you to start a clean, new game to enjoy all the new Quality of Life additions from the start.
The main element of this update is content for the entire Day 9 of the story. It comes with 9 events that span throughout the entire day (one of them even has 3 different variations)!
---
Download
Download For Compressed Win/Lin (Old Ver.)
Download For Compressed Mac (Old Ver.)
Download For PATCH
WINCEST PATCH
*Updated for v08.02 ** Extract the contents of the file inside the "game" subfolder of your game. Does NOT require you to start over!
Download For Gallery Unlocker
MEDIAFIRE
** Replay gallery unlock, to use download the file as a .rpy into the game's `game` folder (right click on the attachment, and select the save option).
Download For HOTFIX FOR (v0.07.04)
MEDIAFIRE
**MIGHT NOT NEEDED ANYMORE! Extract this to your game's folder, it should fix the all the issues reported so far. This fix is only for PC and Mac, the android version will have to be rebuilt.
Download For HOTFIX INSTALLATION TUTORIAL (FOR POSTERITY)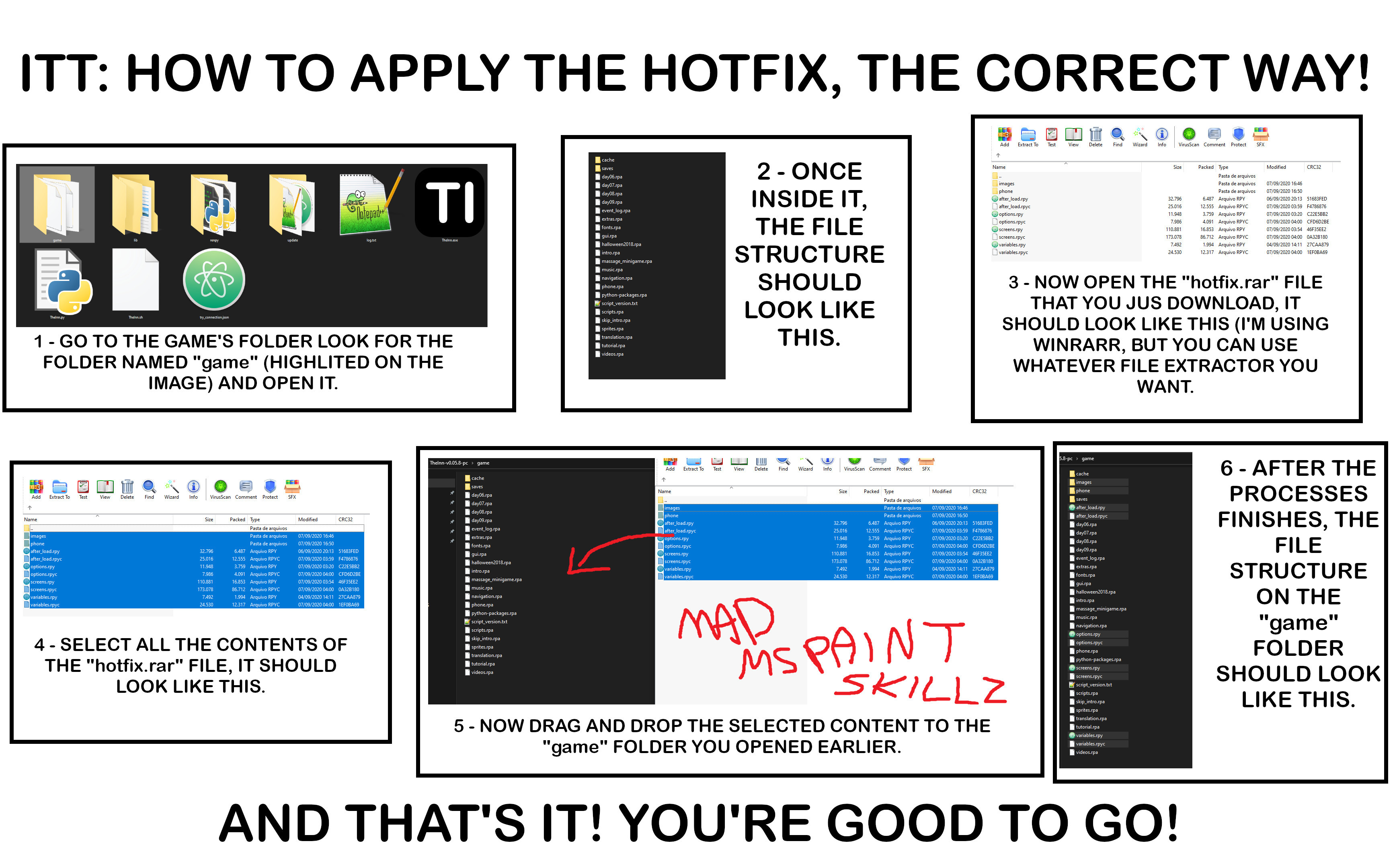 Keywords: Download The Inn Lewd Game.